Tampon Tax abolished
After more than a decade of campaigning, state and federal governments have finally abolished the $20 million-a-year tax on tampons and sanitary products. #wedidit
It's time to stop taxing the dignity of Australian women – hear from our Founder on how we're trying to right this wrong
Sense prevails – LABOR WILL AXE THE "TAMPON TAX"
Following the Labor Government announcement on Sunday 29th April that they will end "Australia's unfair and discriminatory "tampon tax", partnering with the states and territories to remove the GST on women's sanitary products" Share the Dignity would like to call for your support in creating a bipartisan agreement to end this tax.
In the announcement Labor provided an option for how the lost GST could be recovered ensuring that states and territories do not have their current revenue stream reduced. We don't believe we should comment on whether this option is viable or politically correct. What this option does is open up the conversation that there are other means of collecting the revenue that would be lost through the removal of the tax on sanitary products.
In Australia all feminine hygiene products are classed as 'non-essential items', in other words a luxury product. They are not included in the Federal government's list of important health goods such as sunscreen, condoms, and nicotine patches. Yet these "non-essential items" require Therapeutic Goods Association approval, something which only applies to medical items!
Before GST was introduced in 2000, a proposal was made to exempt such products, but it was dismissed by then Prime Minister John Howard. At the time, Health Minister Michael Woolridge, likened feminine hygiene items to shaving cream, saying "Well, as a bloke, I'd like shaving cream exempt, but I'm not expecting it to be".
Far from shaving cream, feminine hygiene products are essential health products, without which, those women who menstruate every month for an average of 30 years, would have no way of pursuing a normal public or private life and would be at risk of jeopardising their health.
"Justice Scalia once wrote 'A tax on tampons is a tax on women', but it goes further than that. By taxing feminine products, we as Australians are aiding to the violation of human dignity of those who we love the most. This is an issue for both women and men," says Rochelle.
If we take this matter away from being an economic discussion, our question is do you think it is acceptable for women to be taxed on products that simply address a basic biological need every month?  We serve a community of women and girls who cannot afford to purchase these products with or without GST. We have thousands of sanitary products donated by the public each year in an attempt to provide a basic need to women and girls who are unable to provide these products for themselves.
What we believe, along with the 104,000 people who signed our petition in 30 days during March, is that it is incredible in 2018 that women are still having to raise a question that ultimately falls to that of equality, women are being taxed simply because of their biology.
So, we believe that we should all recognise that while an announcement in the budget to axe this tax has an economic impact, really it represents an incredible step forward for gender equality.
Labor have announced that should this issue not be dealt with before the next election it will be one of their commitments. At Share the Dignity we ask that gender equality does not become an election issue, and instead all governments come together to find the right solution to remove this tax.
You can help support Share the Dignity and its mission to keep this topic in the forefront of those in the power to change it.
Buzzfeed: The Senate Has Passed A Bill To Scrap The Tampon Tax
But this doesn't mean the bloody tax will be removed.
The Senate has passed a Greens bill to scrap the controversial 10% goods and services (GST) tax on tampons and feminine hygiene products.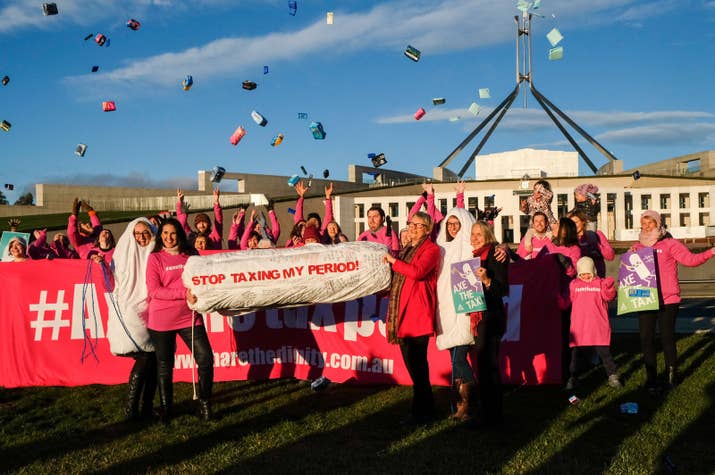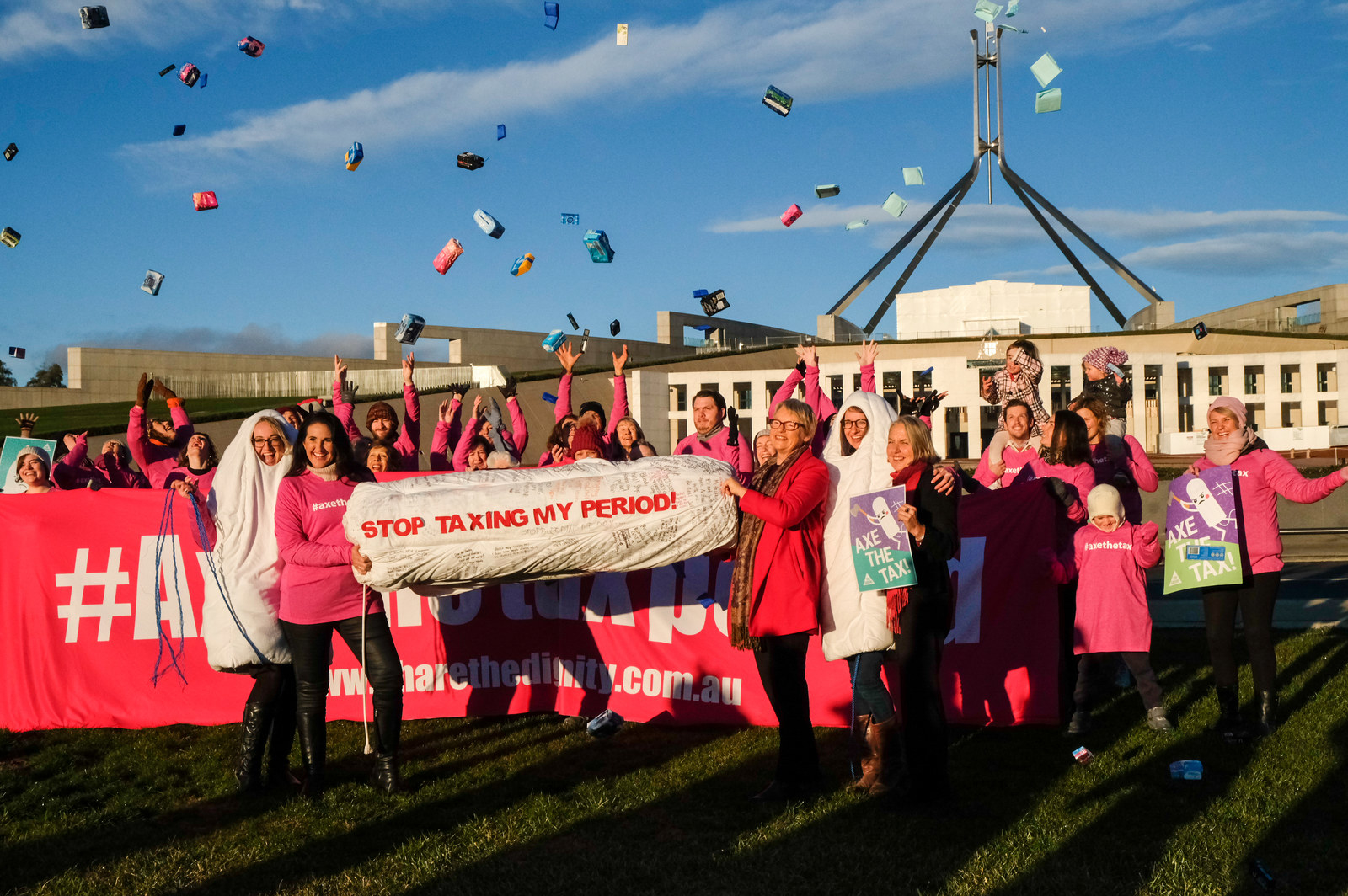 Greens senator Janet Rice's bill – co-sponsored by Derryn Hinch, David Leyonhelm and Centre Alliance's Stirling Griff – was passed on voices. There was no physical vote but the government voiced its objection.
Jobs minister Michaelia Cash was in the chamber and said "no" when the question to pass the bill was put, but didn't call for a vote.
Rice's bill proposes to amend the GST and change the classification of tampons, sanitary pads, liners, cups and sponges – which are currently listed as non-essential "luxury" items – to essential health products.
Since 2000, sanitary products for menstruation incur a 10% GST, but other health products such as sunscreen, toothpaste, lubricant, condoms and Viagra do not.
The most recent modelling, published by BuzzFeed News, found that removing the tax on feminine hygiene products would cost states and territories about $40 million per year. That's 0.05% of the over $62 billion brought in annually from the GST.
"If cis men required sanitary products because they bled every month, do you think there'd be GST added to them? Absolutely not. It is unfathomable," Rice told the Senate.
"This is a sexist and unfair tax on the biology of people who menstruate and it never should have existed in the first place."
Rice believes the GST on sanitary products disproportionally impacts low income women and transgender people who have insecure work and housing.
"It's easy for some to dismiss this as a non-issue," Rice said, "But there are people who are sometimes faced with having to make a choice between buying tampons or buying food. The fact that they're charged more for an essential sanitary product because of the GST is simply unacceptable."
Minister for women Kelly O'Dwyer told BuzzFeed News last month that it doesn't matter if the Senate passes a bill to repeal the tax, as ultimately it's a decision for the states and territories.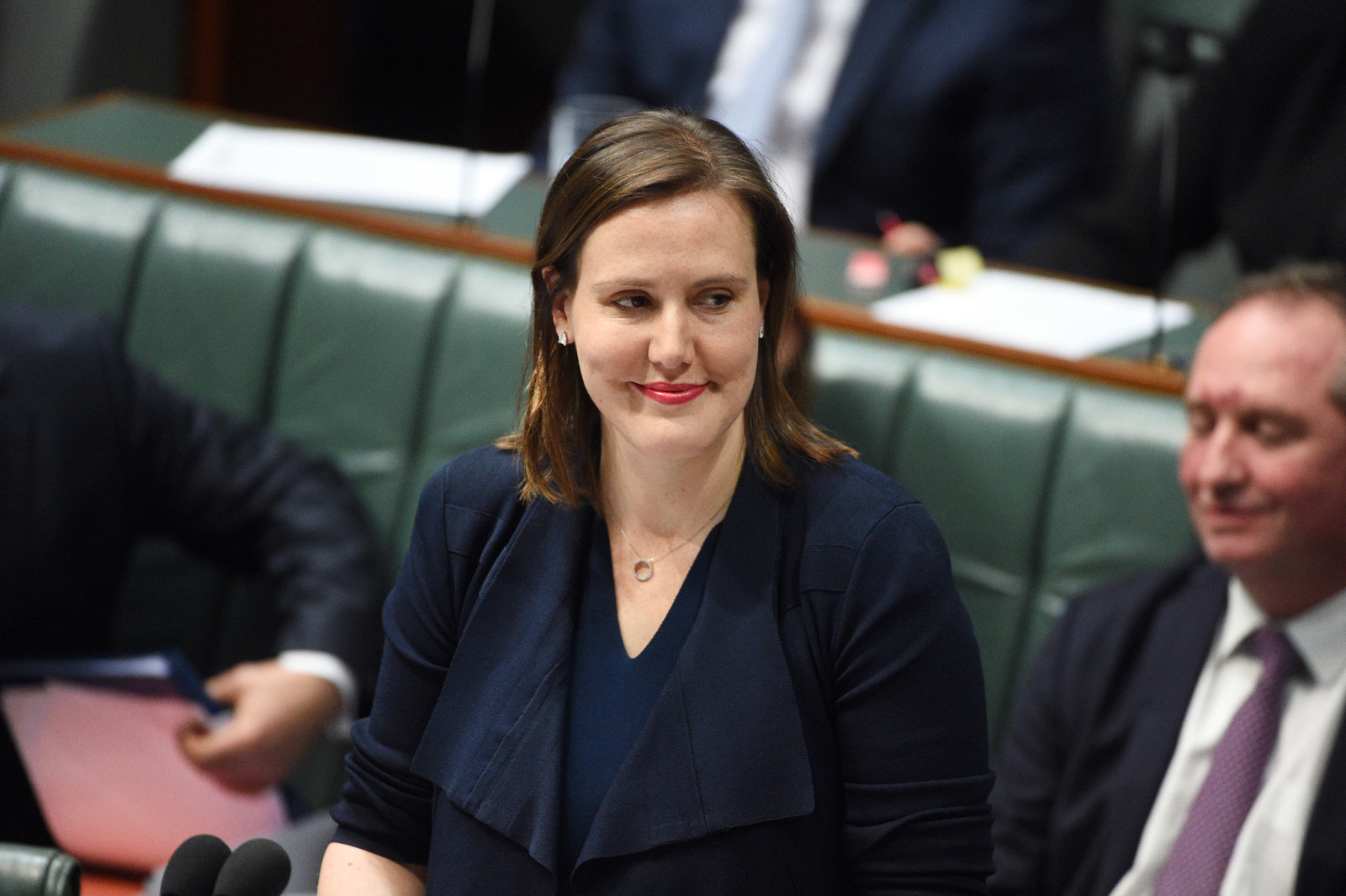 O'Dwyer has refused to push for any change to the status of sanitary products, saying no state treasurer has raised it with the government as an issue.
All states and territories led by Labor governments – Victoria, QLD, NT, WA, the ACT – are in favour of scrapping the tax. Liberal run NSW, Tasmania and South Australia are opposed.
Former treasurer Joe Hockey raised removing the GST from sanitary products with the Council on Federal Financial Relations (CFFR) in 2015, but could not reach unanimous agreement from the states and territories.
Health minister, Greg Hunt, does have the option at any time to make a determination under Section 38.47 of the GST Act to remove the tampon tax, however the states and territories would still need to agree unanimously with the determination.
The first petition opposing the GST on sanitary items with 10,355 signatures was tabled in Parliament House on 15 February 2000, months before it came into operation.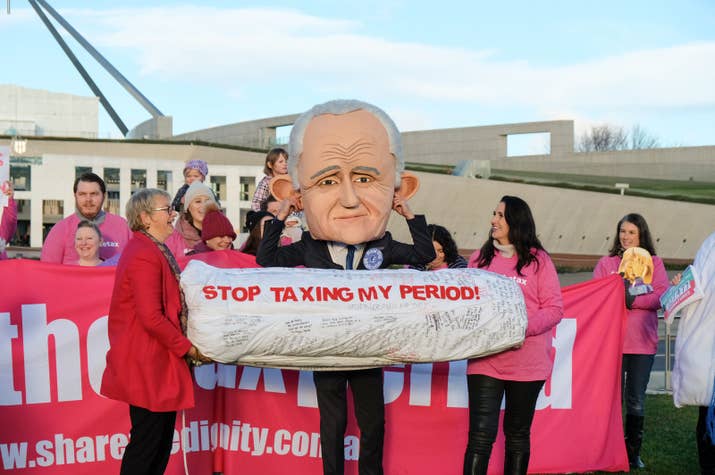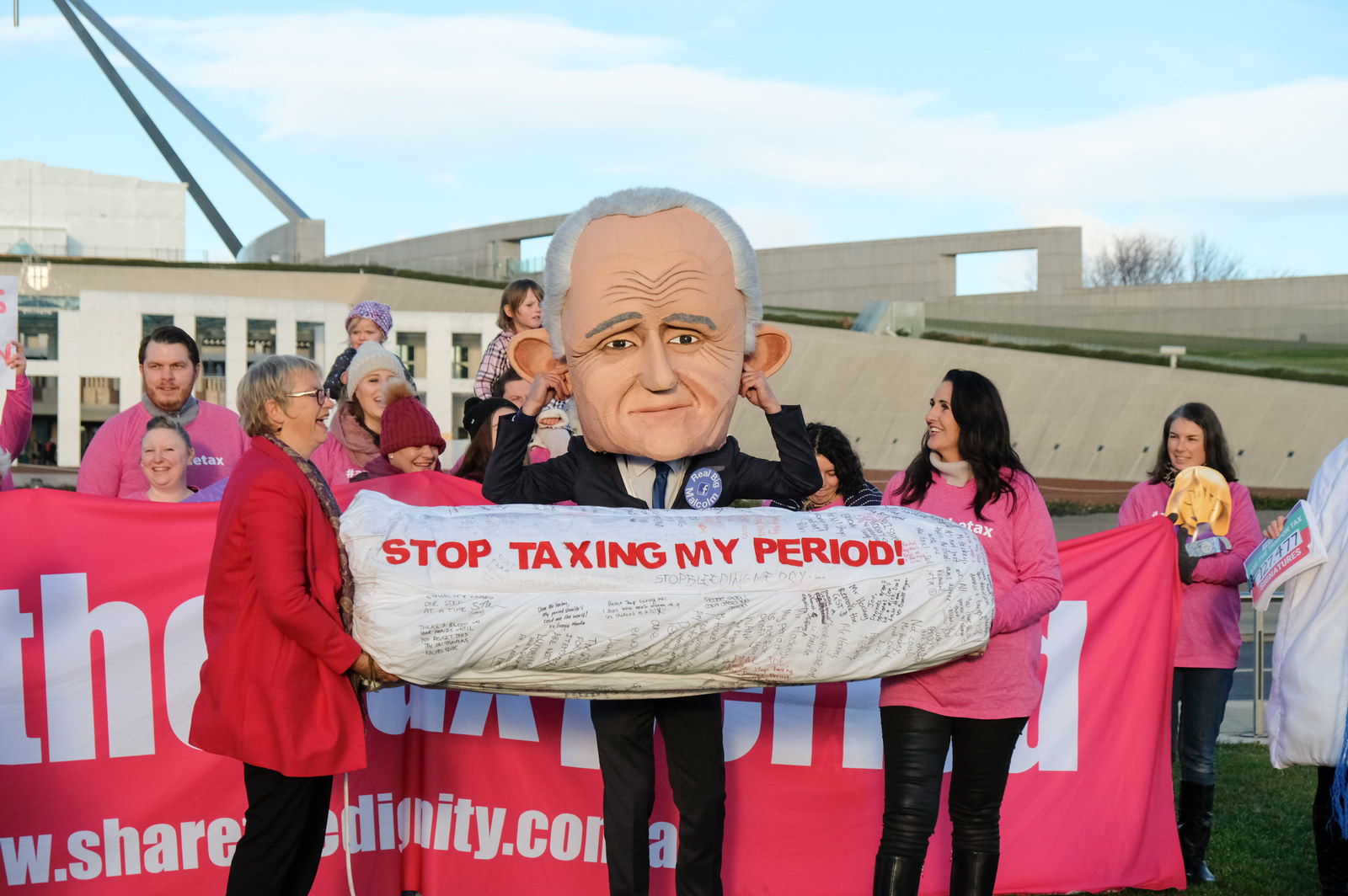 On Monday, Rice tabled a petition with over 127,000 signatures opposing the tax, collected by The Greens and charity Share the Dignity.
Protestors gathered with Share the Dignity outside Parliament House on Monday morning alongside a comically large tampon with the words "stop taxing my period" written in blood red. They threw tampons in the air and chanted for an end to the "bloody tax".
"It is clear, Australians have had enough. They want this unfair, sexist tax on sanitary products gone once and for all," Rice said.
This is the second time the Greens have proposed to scrap the tampon tax.
A bill introduced by former Greens senator Larissa Waters was rejected by the Senate when Labor and the Coalition teamed up to vote against it. Centre Alliance (formerly the Nick Xenophon Team) senators, as well as Derryn Hinch, David Leyonhjelm and then-independent Lucy Gichuhi voted in favour.
A motion by Leyonhjelm to get rid of the GST on tampons was voted down in March.
Labor leader Bill Shorten announced a change in his party's position on the tampon tax in April. Shorten said if Labor wins the next federal election it will remove the GST from sanitary products because they're not "luxury" items and are necessary for reproductive health.
Tampons and sanitary products would move into the GST-free essential health items category alongside condoms and lubricant, and the party would apply the GST to natural therapies including herbalism and naturopathy.
Labor has said it would remove the GST on sanitary items for 18 years, but while in government from 2007-2013 didn't remove it.
Channel 9 News - 29th April 2018